James Carrasquillo
Leader of the Carrasquillo Mobs
(This Character Belongs to Kaptep525)
History
He was born in Sparti, Greece in 2050. He was the only child of a wealthy mobster. When his father learned of James' powers, he quickly turned him into a weapon. He would have him summon bands of men to attack enemy gangs. Soon they were an unstoppable force. But his father started to take things too far. HE tried to use James to conquer the Government. He wanted James to summon a whole Baivarabam (10,000 men) to attack the Capital Building so that He may rule. James disagreed. He slashed open his father and took his place as the leader of the Mob. He soon controlled the whole Greek underworld and then some. He soon moved out and conquered other countries gangs and underworlds. He has total control over what Illegal business goes on in Italy, Germany, France, and Greece. He has some control in other countries. When JWWWI was formed, he had men it it sooner then it would take to say it's full name. He needed to know what composition he would face. He soon realized that they were no threat. He sometimes helps them in big jobs that need a lot of men.
Current History
I was going to be the trainer nor the Rox-fu, but that didn't workout...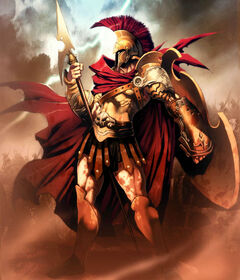 JWWI Consultant
Leader of the Carrasquillo Mob
Vital Statistics
| | |
| --- | --- |
| Gender | Male |
| Born | June 14 2050 |
| Status | Alive |
| Eye Color | Grey |
| Hair Color | Black |
| Height | 6'10" |
Other
Affiliation
The Carrasquillo Mob


JWWIv

Weapons
Those of a Spartan General, Catharsis, and His Powers.
Home
Sparti, Greece (formerly) Mercury
Friends/Allies
-
Enemies
Those who oppose him.
Missions
Many but most not for JWWWI
Personality
He is a scheming, cruel mob leader. He has no problem killing and does so often. If you cross him you probably will end up killed. The only reason he works with JWWWI is because they pay him for troops when they need them. He plans to someday lead JWWI and make it part of the Carrasquillo Mob, or at least have them be allies.
Abilities
He can call the Spartan army to his aide back from the dead. He can control how many he commands and they are completely loyal to only him. He can command loyalty to others but They will still listen to him.
Possessions

Catharsis, my sword